For once, I attended a meet-up with girls from the Finnish community. We had a little photosession in a local park and headed for a sushi place. Unfortunately the wind was freezing limbs and killing buns and curls. Very deceptive weather. Also, poor sushi restaurant got plenty of inquiries about their tea brewing... I didn't have my monster of a camera with me, so limited pictures. I apologize.
I decided to take out the dress I traded in Hellocon. I went with pretty classic, simple coord since I had to drag the outfit with my the day before. It's the same dress as my brown IW JSK, but in wine. Super light and versatile, I love it.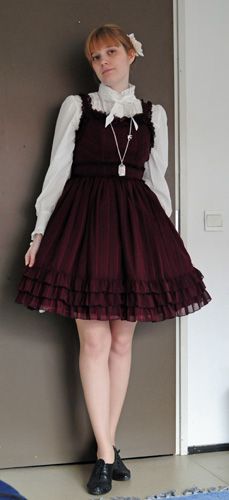 Dress and blouse IW, others same old offbrand.
Lovely girls, I had fun! Picture isn't mine, no stealing.
I'll do Hellocon part 2 soonish when I have more time.