On Sunday I had a craft meet-up "Light" Créme de la Garderobe. We were in a lovely cafe/shop filled with romantic things and clothes. I mostly just continued my lace glove-crochet project, I'll post them as soon as they're ready! I had fun, met people and ate great apple pie. And I want to go back to that cafe for lunch one day, ti was so charming! Too bad I didn't have my camera with me to take some pictures.
Anyway, my coord for the day, I wanted to wear my favourite dress. Sorry, the photo is a bit yellowy(and my hair bun does not show!), I was in a rush.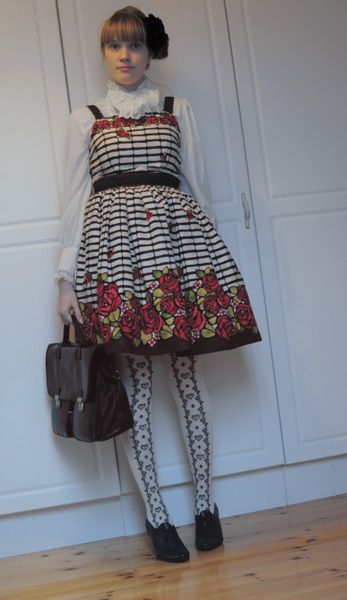 Jsk, blouse, OTK: IW
Shoes from Italy
Everything else offbrand
Next week will be filled with labstuff and hopefully shopping. It's sale in Uff, a second hand shop. I'm hoping to find a coat I can mod and/or destroy since my old winter coat is ragged and not so warm.