Like many others, I saw Skyfall yesterday. I wasn't actually very keen on watching it but my friends insisted. I'm more of a old-fashion Bond fan. Well, to cut it short, it was quite okay, just... Hollyvied.
Since this also marked the end of my exam week I wanted to wear something nice. Surprisingly my dress of choice was Rose stained glass. No blouse, how unloli of me but we continued to my friends place so it was more convenient like this. I'm sad I couldn't take picture in the theater, I love it! It's the oldest cinema in Finland and the halls look more like actual theaters with stage replaced by a screen. Lots of gold and bordeaux to match my dress. I just though the staff might not like me carrying big camera to day after premiere show...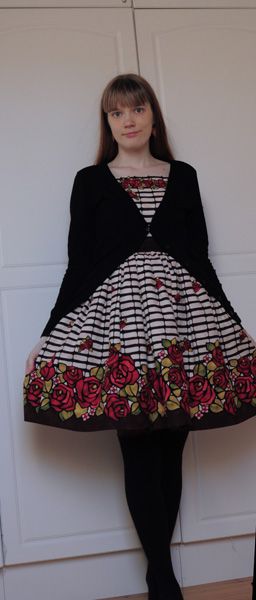 Please excuse the expression. Jsk Iw, others offbrand.
On Sunday I met my dear friend. We haven't seen for quite a while so we simply cooked thai food and tried to catch up. I love talking with someone who has such a similar mindset. It's too bad our other friend couldn't come this time.