This Sunday I visited Ofelia market, place for all kinds of quirky styles including lolita, for the first time. I loved all the beautiful and original accessories and clothes vendors had for sale, I wish I could have brought half the stuff there home with me. In the end I settled for a cameo ring since I found one that actually fits me! I have quite thin fingers, rings tend to be a serious problem and that's partly why I wear them seldom. Also, I can't buy one without lots of room for adjustment or trying it on first. Now I need to hunt down cute matching necklace though...
I decided to take my laciest dress out for the first time. I feel it's too much for normal days so I pretty much need some kind of special occasion to wear it. Anyways, pictures.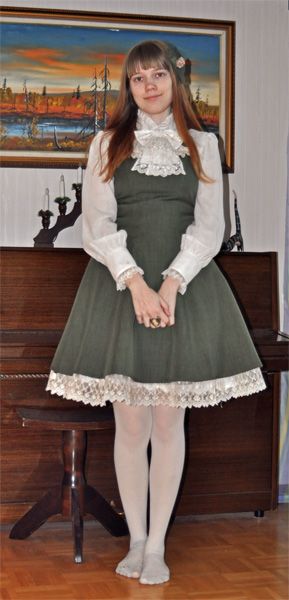 Tired derpyface after the market.
JSK, blouse and headbow(it belongs on the dress) IW. It's too bad I forgot to take picture of the back of the dress. It has a lovely lace bustle!
The ring I bought from Smooth jewelry, a Finnish designer. My nails usually have French manicure unless I feel the urge to do some special pattern.