It's been way too long. My last few weeks have been spent with oversized hoodies and woolen socks, trying to cram for exams. I'm already afraid of summer, with my BA on the way...
On the other note, we have this traditional freshman cruise to Stockholm. We had an awesome discount, so me and my friends decided to tag along. No lolita, so no outfits, but some picture spam of a lovely city and stuff I bought. There's this amazing sci-fi and fantasy bookstore in Stockholm, Science fiction bokhandeln, I have to visit every time. They had lovely collections of classic novels and shortstories with beautiful bindings and I bought the Edgar Allan Poe one. Jane Austen was also tempting, but this had more stories I hadn't read already. Sadly we didn't have time and energy to wonder all the way to The Tea Center of Stockholm, but I got some from another store. It's a black tea with berries and sweet flavor called Gamla Stan (Old town).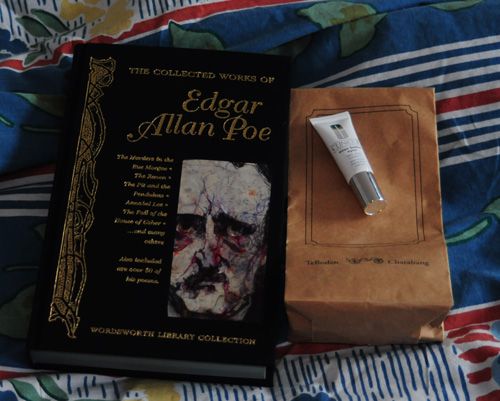 The book, the tea and very nice dark circle corrector from Clinique.
And some photos from Stockholm, click bigger.